PEAK: Your Direct Fiber Connection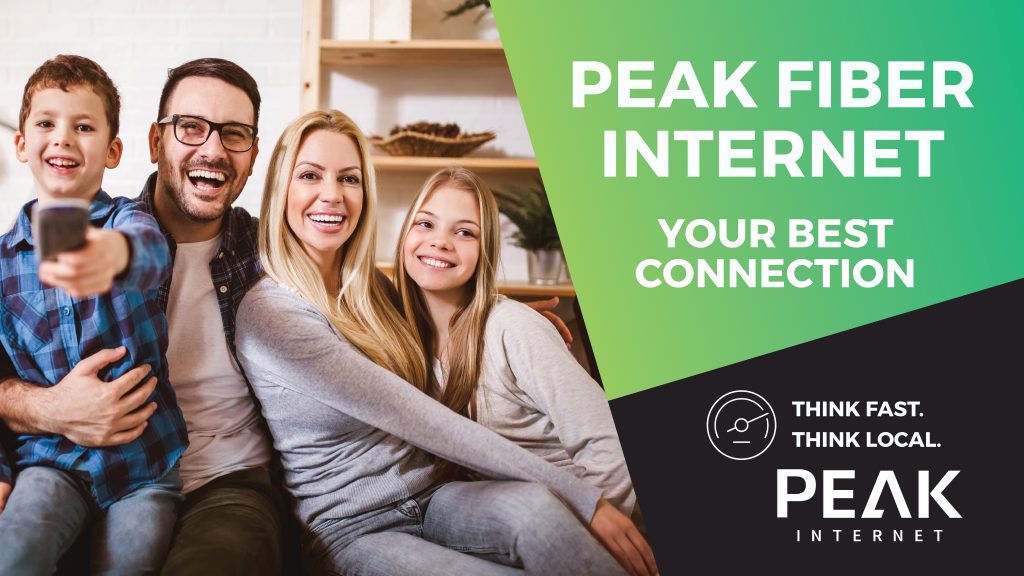 GETTING THE MOST FROM THE CONNECTION
The average American watches 3-4 hours of television a day and can spend an additional 3 hours on a computer or Smart device.  Television has become a very important part of our everyday lives.  Everyone wants to get the most out of television, including a crisp, clear picture and a wide variety of shows.  They want a robust internet connection and a television provider with a wide array of viewing choices. 
But how do they decide?  Should they go with Cable or Live Streaming TV?  Should they get internet through cable or fiber or DSL?  
Let's take a look…
First things first. Let's compare getting internet service from a cable company, a direct fiber provider (like PEAK Internet) or through DSL.  
DSL is delivered over the copper telephone lines and is only a step above the old dial-up connections. It is the slowest option. The closer a customer is to the main office, the better the signal strength. Download speeds range from 5 to 35 megabits per second (Mbps). Upload speeds range from 1 to 10 Mbps. The average being below 10 Mbps.
Cable TV is delivered by coaxial cable, the same lines that deliver cable TV service. The technology has been around since the late 1940s. Customers can experience slowdowns in speed, largely because they are sharing bandwidth with their neighbors. This is likely to happen in the evening when TV and internet use is the highest. Download speeds range from 10 to 500 Mbps. Upload speeds range from 5 to 50 Mbps.
PEAK Internet Fiber Broadband Service is the most modern technology, using optic lines essentially made of fibers of glass.  Signals are sent at the speed of light.  These speeds are the fastest available, and they are not slowed at peak usage times.  The typical household today uses the internet in so many ways; from video to phone to home security.  Fiber, with its powerful signal is the best choice to meet the bandwidth demands of the typical family.  Gamers will be especially pleased with the speed of fiber. Download speeds range from 250 to 5,000 Mpbs (that's 5 Gigs!), while upload speeds range from 250 to 1,000 Mbps.  Customers will want fast upload speeds to save photos and other large files to the cloud. One of the key benefits of fiber is no data caps are imposed on the subscribers. The best part about Fiber Internet is that it's "Future Proof". What does that mean? "Future-Proof" simply means that whatever new thing comes along, whether its virtual reality, amazing new smart home technology, or something that hasn't even been thought of yet, fiber Internet will be able to provide any and all of these amazing services without a concern for bandwidth. 
You should decide what is best for your family based on need.  How many people will be sharing internet services?  How will the internet be used—for downloading large files, or watching streaming services?  How many devices will be connected to wi-fi?  Cell phones, video doorbells, TV sets, computers and printers, home automation/smart home devices, and even baby monitors may use internet bandwidth.  More and more "smart" devices are being introduced every day.  Because of this, fiber with its high Gig speeds stacks up as the best choice if it available in your area.