THE CLEAR CHOICE FOR
PHONE SERVICE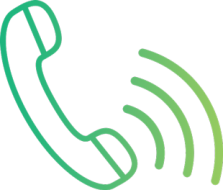 Advanced Voice Services
Looking to bundle Internet and phone services? With PEAK Internet, it's easy to add Advanced Voice I.P. telephone service to your new or existing PEAK Internet Fiber connection. If you're tired of spotty cell service where you live, don't wait another minute to take advantage of crystal-clear, reliable, affordable voice service from a company you already trust
As a PEAK Fiber customer, you have the option to add Advanced Voice telephone service as soon as you begin enjoying your gigabit Internet. And since it's from PEAK Internet, you know you can depend on excellent customer service. You can even keep the same telephone number, making it easy to stay connected with friends and family. Stop waiting around for cell network upgrades. Advance your home phone service with Advanced Voice.
Unlimited Local & Long Distance*
Standard UPS Battery
Voicemail & Calling Features
Keep your same phone number

ADVANCED CALLING FEATURES
INCLUDED AT NO EXTRA CHARGE
Dialing & Talking
Speed Dial
Call Return
3-Way Calling
Battery Backup
Call Waiting
Call Hold
Call Transfer
Receiving & Screening
Caller ID
Call Rejection
Call Blocking
Voicemail & Call Forwarding
Voicemail
Readable Voice (VM to Text)
PIN Resents / Changes
Call Forwarding
Voicemail Setup
Rate is for phone only service. *Continental US only. Installation charges may apply.
*Not all features are available in all areas. The features list is representative of calling features available with
Advanced Business Voice.
Get PEAK Advanced Voice Services
Sign-Up today and one of our friendly Support Center representatives will be in touch with you shortly.