TECH TITANS: Dr. Philip Emeagwali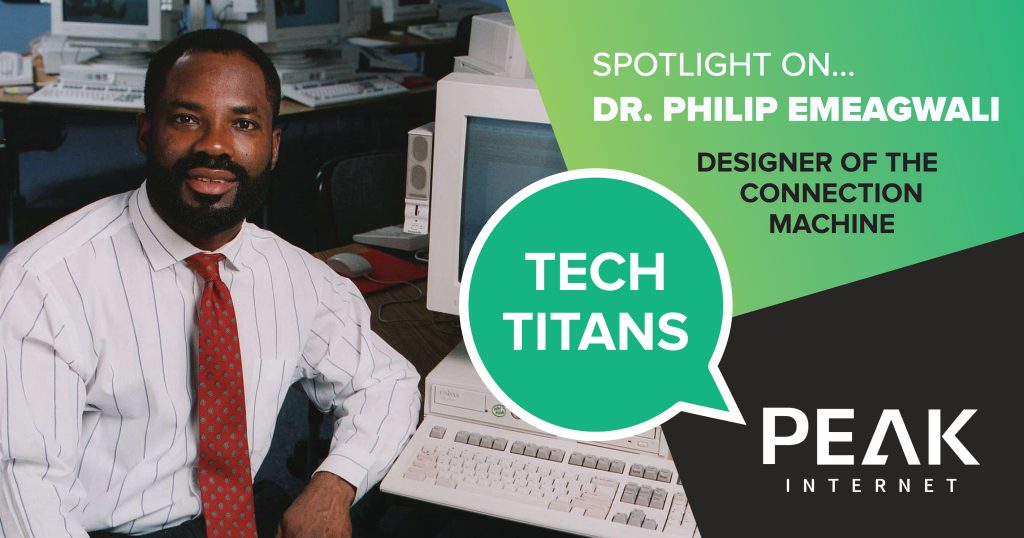 Imagine that you're a twenty year old moving from an underdeveloped nation to escape war and famine. Then imagine that you 1) use a telephone, 2) visit a library and 3) see a computer—all for the first time!
Given all of that, it might be hard to imagine that you would go on to achieve breakthroughs that would ultimately lead to the development of the internet. But that is exactly what Phillip Emeagwali did.
Phillip Emeagwali was born in 1954 in Nigeria. He was a superb math student growing up; so much so that in high school he became known as "Calculus."
But his high school years were interrupted by the Nigerian Civil War, and he and his family were forced to flee their home to another part of the country. Phillip was then drafted into the army of Biafra, as that nation seceded from Nigeria. The Emeagwali family lived in a refugee camp until the end of the war in 1970.
Phillip resumed his high school education, walking to classes two hours both ways each day. But, due to financial difficulties, he had to drop out. He kept studying nonetheless, and passed a high school equivalency exam in 1973. In 1974, he won a scholarship to Oregon State University, earning a degree in Mathematics in 1977. But he didn't stop there, going on to earn a Masters Degree in Ocean and Marine Engineering from George Washington University and a second Masters Degree in Applied Mathematics from the University of Maryland.
But it was during a Doctoral Fellowship at the University of Michigan in the 1980s when Dr. Emeagwali made an amazing breakthrough. He had been observing bees, marveling how they worked together to build and maintain honeycombs. Using the bees as inspiration, he figured out a way for 60,000 widely distributed microprocessors to communicate with one another and to work together, running more than three billion calculations per second. It was perhaps the world's very first supercomputer.
So if you wanted to contact Dr. Emeagwali, you might send him a text message or an email, delivered over the internet which he helped develop!