Smart Choices for your Smart TV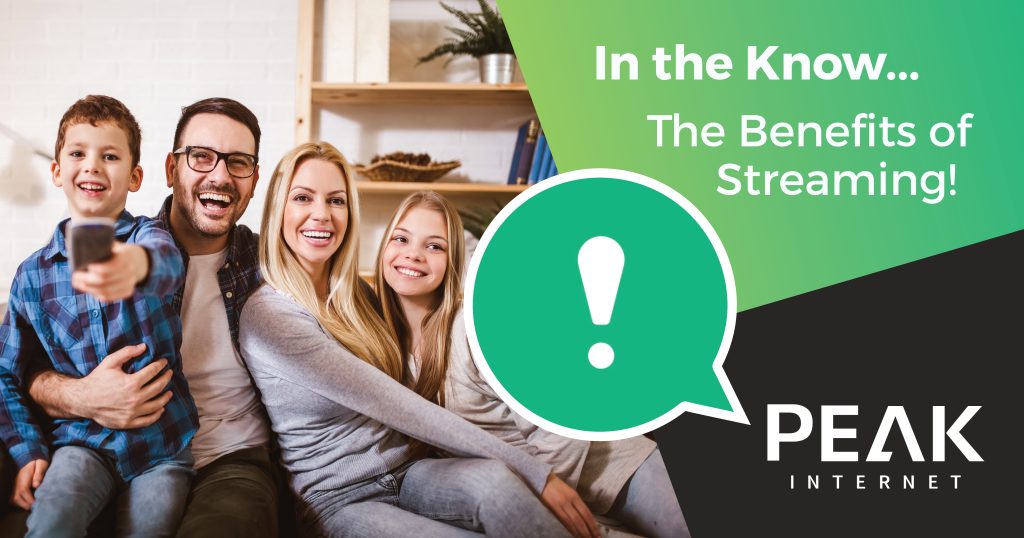 In the old days of analog TV you were at the mercy of network programmers who set all the schedules. If you wanted to wanted to watch "I Love Lucy," you had to tune in on Monday night at 9 p.m. And you had to wait a whole week for a new episode.
Now, with streaming, you're in control. If you want to watch an episode of "Ted Lasso," you can watch it any day at any time on Apple TV+. It's available on your schedule. And you can even watch full seasons. Streaming services are known for their binge-worthy shows!
PEAK is your gateway to streaming TV with its ultra-fast high speed internet. You can count on problem-free streaming delivered to your home by fiber optic cables. Cable companies may boast of fiber, but in reality they will likely have a mixture of coaxial cables and some fiber. And you can watch the vast majority of networks and shows available on cable or satellite plus a wide variety of services designed specifically for streaming such as Netflix, Prime, Hulu, and many others.
And did you know that you can sometimes enjoy blockbuster hit movies on services such as Netflix and Prime at the same time they are being shown in theaters? Think of what you can save on tickets, baby-sitters and over-priced popcorn and sodas!
It's no secret that streaming is fast becoming the favorite way to watch TV. You've heard about "cord-cutters." The number of Cord Cutters is expected to grow to over 55 million households. For comparison, it was less than 25 million in 2017. A recent survey by Criteo found that viewing of streaming services is growing, with 64% of respondents indicating that they were spending more time streaming. Nowadays Netflix has more subscribers than cable and satellite combined!
If you're concerned about cost, streaming is clearly the better option. You can get a wide variety of networks with live streaming services such as fuboTV. What you won't get are all those charges for equipment rental, broadcasting fees and binding contracts.
Services such as Netflix and Prime offer no commercials to interrupt your viewing enjoyment. Commercial TV delivers 12 minutes of commercials per hour. In a 30 minute TV program, only about 23-24 minutes are actual program content, while the rest is devoted to commercials and station identification content.
Add it all up and streaming wins hands down over cable and satellite. With PEAK, you get the most modern innovations in streaming technology. You will enjoy worry-free internet and you'll be able to select the streaming services that best fit your lifestyle and budget. It's the smart choice for your smart TV.