The Best Streaming Platforms for the 2022-23 NFL Football Season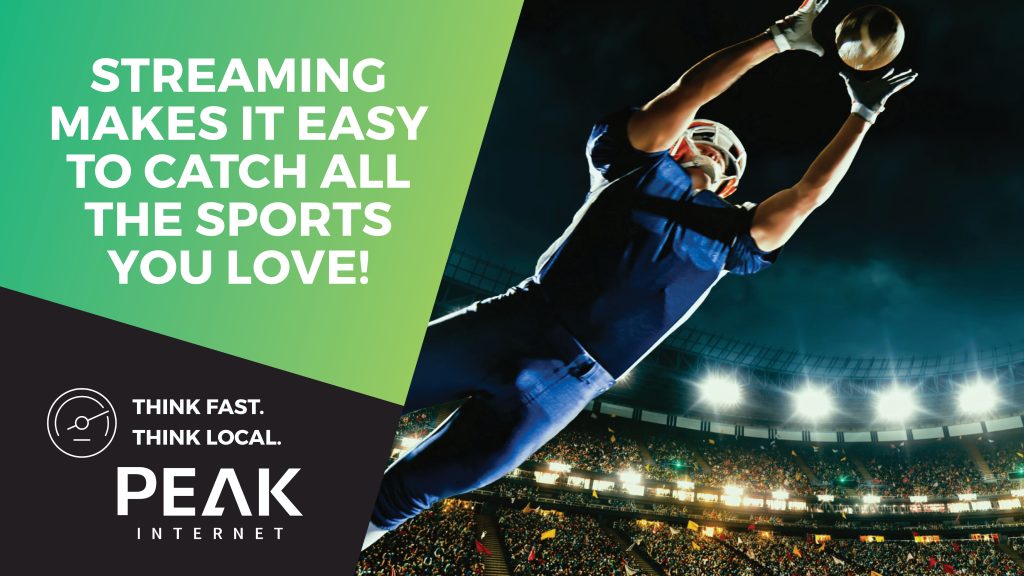 Are you ready for some football?
The 2022-23 NFL regular season kicks off next month and you don't need a cable connection or satellite dish this season to enjoy your favorite teams every week.
With MyBundle, you can build a bundle of apps to include channels and add-ons you need so you never miss a single highlight reel catch or game-winning touchdown. And along with PEAK Internet's high-speed fiber internet, you'll be able to enjoy the 2022-23 NFL football season with superb, pristine picture quality.
To gear up for the season, we recommend you select a package from Sling TV, an inexpensive live TV streaming service that lets you stream most NFL games.
Then, MyBundle can help you select additional streaming services to make sure you can watch games in both the AFC and NFC conferences and the best outstanding sports analysis and news.
Below we discuss these recommendations so you can get warmed up for all the NFL action this fall!
Live Football and Sports on Sling TV
Sling TV is one of our favorite options for live streaming TV—and not just for football, but for many other sports and great entertainment!
For true sports fans, we suggest Sling's Blue + Orange package, which includes more live sports channels, like ESPN, and other sports coverage you can't live without.
The Orange + Blue package also comes with NFL Network, which broadcasts outstanding football analysis and features acclaimed histories of the sport and its most legendary players and games.
And consider adding Redzone to your Sling TV package, which takes you directly to live action during games when teams are in scoring position (usually within the 20-yard line).
Sling TV offers this add-on for just $11 extra per month.
Live Local NFL Games
Be sure to compare Sling TV's channel lineups and packages with other live TV services you can select through MyBundle. Check out YouTube TV, FuboTV, and Hulu + Live TV, which also provide coverage of your local NFL teams.
NFC Football Teams on Fox
Now, let's talk about how to watch games in each conference, starting with the NFC.
Fox has broadcasting rights to NFC football games, and you can enjoy them by streaming Fox online.
And Sling TV is the cheapest way to stream Fox for NFC teams. So again, check out Sling TV's Orange + Blue package, which includes Fox, and you should be ready if your favorite team is in the NFC!
AFC Football Teams on Paramount Plus
CBS is the network that broadcasts AFC teams and games. And Paramount Plus, CBS's streaming platform, provides streaming access to the AFC.
Be sure to select Paramount Plus's $9.99 per month plan, and you'll be able to stream all the AFC action.
NFL Network and Redzone
Diehard football fans who can't get enough of their favorite game should also check out NFL Network and Redzone. It's easy to include these channels in your Sling TV Orange + Blue package (with Redzone added on).
But other live TV options provide access to the NFL Network and let you add Redzone, including FuboTV, Hulu + Live TV, Vidgo, and YouTube TV. So be sure to check them out, as well.
Big News on NFL Sunday Ticket
We would be remiss if we didn't tell you the huge news about NFL Sunday Ticket, the League's premier broadcasting app that lets you watch any game anywhere.
Beginning next year, after this season, NFL Sunday Ticket will leave DirectTV and be available to all streamers on a yet-to-be-determined streaming platform.
That means you won't need DirectTV's clunky equipment—and expensive extra bills—to enjoy Sunday Ticket. So over the coming months, stay tuned to learn more about this exciting development.
To discover more ways MyBundle helps you both improve your streaming experience and save you money, click here. And for more useful tips on making the most of your high-speed fiber internet, follow PEAK Internet's social pages!